Publicom receives national accolades for Health Care Marketing
OKEMOS, Mich. – Publicom, an integrated marketing communications firm, won two national awards – a gold and bronze – in the 18th annual Aster Awards competition that honors excellence in health care advertising.

"Working every day to elevate clients' businesses to higher levels is our greatest honor, but winning national awards is testament to how our work compares with that of agencies across the country," said Lisa O'Connor, Publicom president.
The recognized projects, both created for Smile America Partners, are:
A compliance piece, winning a gold Aster Award in the flyer category. It ranks in the top 5% of entries, scoring within the range of 95% to 99%.
A logo for a Utah dental coalition in which the client participates, winning Aster bronze. The logo ranks in the top 16% of entries.
Smile America Partners, with offices in Farmington Hills, is a national dental service organization (DSO) specializing in mobile dentistry to bring care to students and members of the military.
Judges evaluated entries based on creativity, layout and design, typography, production, quality and overall effectiveness. The Aster Awards is hosted by Marketing Healthcare Today Magazine and Creative Images Inc.
Founded in 1979, Publicom Inc. is an integrated marketing communications firm specializing in brand development and on-brand behavior for service companies throughout the nation. Publicom provides strategic planning, marketing research, advertising, creative services, digital marketing, media planning services and public relations counsel to clients in a variety of service industries including health care, finance, insurance and education. To view a portfolio and for more information about Publicom, visit www.publicom.com.
# # #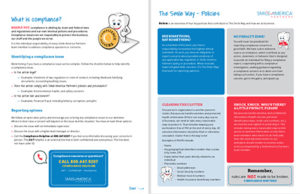 Publicom's compliance piece for a national dental service organization is in the top 5% of entries in a national health care marketing competition.

The logo for a Utah dental coalition earns a national bronze Aster Award for health care marketing excellence.