Publicom Wins 5 National Marketing Awards
OKEMOS, Mich. – Publicom, Inc., a full-service marketing communications firm, has won five national awards in the 20th Annual Service Industry Advertising Awards competition, with three entries receiving Gold Award distinctions.
"We are inspired daily by our clients to do good quality work, and we are honored to collaborate and help share their missions and stories," said Lisa O'Connor, Publicom president. "We don't do the work for the notoriety, but it's an added bonus to get national recognition for our clients."
The recognized clients and projects, along with their SIAA categories and award distinctions are:
LAFCU – Electronic Advertising ­– Shields Up! Campaign (Gold Award)
LAFCU – Equality & Diversity Promotion – DEI Internal Campaign (Gold Award)
LAFCU – Total Public Relations Campaign – Pathway to Financial Transformation (Gold Award)
MSU Honors College – Other: Misc. Collateral – Admissions Brochure (Silver Award)
LAFCU – Total Public Relations Campaign – Spot the Savings (Bronze Award)
The SIAA competition recognizes advertising excellence in the service industry. Of the more than 1,200 entries submitted, only the top 15 percent were recognized. Criteria included execution, creativity, quality, consumer appeal, and overall breakthrough content.
About Publicom
Founded in 1979, Publicom Inc. is an integrated marketing communications firm specializing in brand development and on-brand behavior for companies throughout the nation. Publicom provides strategic planning, marketing research, advertising, creative services, digital marketing, media planning services and public relations counsel. Learn more at www.Publicom.com.
# # #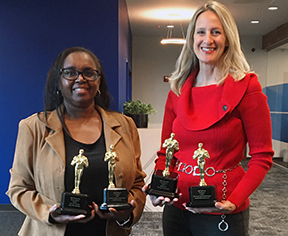 Publicom President, Lisa O'Connor and Shelia Scott, LAFCU community financial education and business development officer, hold four of the five SIAA Awards for the winning entries.